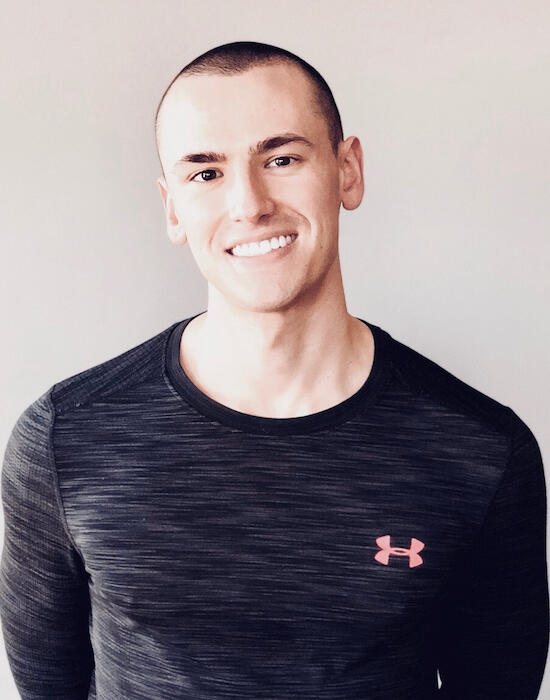 Billy
---
Movement Coach
FMS, Nasm, Ace, ProNatal
Become mindful of your thoughts, how you fuel your body, and move throughout the day.
---
About Me (he/him)
I help people of all bodies and backgrounds build a sustainable and intuitive relationship with movement to improve their physical and mental health.

Like most coaches, my career started in a health club setting. There, I was encouraged to sell a "lifestyle" that valued thinness, rewarded disordered eating, and perpetuated a system that discriminated against so many bodies. Over the years, I've separated myself from health clubs entirely -- my practice is now independent and I'm available for remote coaching nationwide.

Unlike the traditionally trained "personal trainer", I will not guilt you for deviating from a militant exercise program, encourage you to shrink your body, or deprive your body of food.

Instead, my practice will help you identify and sustain health-promoting behaviors that will:

Build strength and muscular balance
Improve mobility, balance, and flexibility
Correct imbalances contributing to joint pain
Increase body confidence, self-esteem, energy levels
Decrease stress, anxiety, and depression
Teach correct movement technique and improve physical literacy
Promote enjoyment of food and intuitive eating

I coach under the belief that all movement, nourishment, and accountability should come from a place of self-love -- not punishment or obligation.

If you are interested in working together, contact me below to schedule a free Discovery Call. During this call, we can discuss your health history, goals, current movement behaviors, and any questions you'd like to ask me. It's important to me that you feel completely comfortable working together, and this is an opportunity for you to decide if you'd like to move forward with a Health and Functional Movement Assessment.
---
Certifications and Specializations
I've completed several certificate programs under National Academy of Sports Medicine, American Council on Exercise, ProNatal, and Functional Movement Systems specializing in:

Muscular Balance, Pain, and Corrective Exercise
Functional Movement and Strength Training
Calisthenics and Balance
Whole Foods Sports Nutrition
Prenatal and Postnatal Exercise and Recovery
Percussive Therapy and Myofascial Release
Intuitive Eating and Health At Every Size Alignment
---
Services
Discovery Call:
Get in touch with me to schedule a free discovery call. During this call, we can discuss your health history, goals, current movement behaviors, and any questions you'd like to ask me. It's important to me that you feel completely comfortable working together, and this is an opportunity for you to decide if you'd like to move forward with a Health and Functional Movement Assessment.

Virtual Health and Functional Movement Assessment:
This assessment is required for all new clients before beginning a program and are currently being conducted via FaceTime or Zoom. The assessment includes a thorough review of health history including past injuries and chronic health conditions, and a series of functional movement screens to identify and treat muscular tightness, weakness, pain, and movement compensations.
$105/Hour

Virtual Movement Coaching Sessions:
All clients must go through a Health and Functional Movement Assessment before their first Movement Coaching Session. Experience virtual coaching in your apartment, apartment building gym, office gym, or gym of trainer's choosing. One hour of individualized movement routines including warm up, cool down, and recovery.
$105/Hour

Couples Virtual Movement Coaching Sessions:
All clients must go through a Health and Functional Movement Assessment before their first Couples Movement Coaching Session. Enjoy one hour of virtual custom routines including warm up, cool down, and recovery with a partner or friend!
$75 Each/Hour

Online Movement Coaching and Programming:
Experience interactive individualized movement coaching based on one Virtual Health and Functional Movement Assessment, and one or more Virtual Movement Coaching Sessions. Log workouts and receive immediate feedback. Price includes unlimited messaging and coaching calls to ensure proper execution.
$105/Month

Get in touch with me below to schedule a free discovery call!
---
---
Plant-Based Food
Several years ago I decided to go entirely plant-based, in large part because I wanted to minimize the harm I caused to animals and the environment. I'm often asked what I eat by people who see a plant-based lifestyle as restrictive and limiting. However, since going vegan, I have discovered and enjoyed many more foods than I did in the past. Eliminating animal products from my diet gave me the freedom to try foods I never gave a chance before. Below are some examples of common meals, snacks, and desserts I enjoy.

I do not encourage anyone to follow a plant-based diet as a way to restrict food groups or calories.

Life's short, enjoy your food.
---
---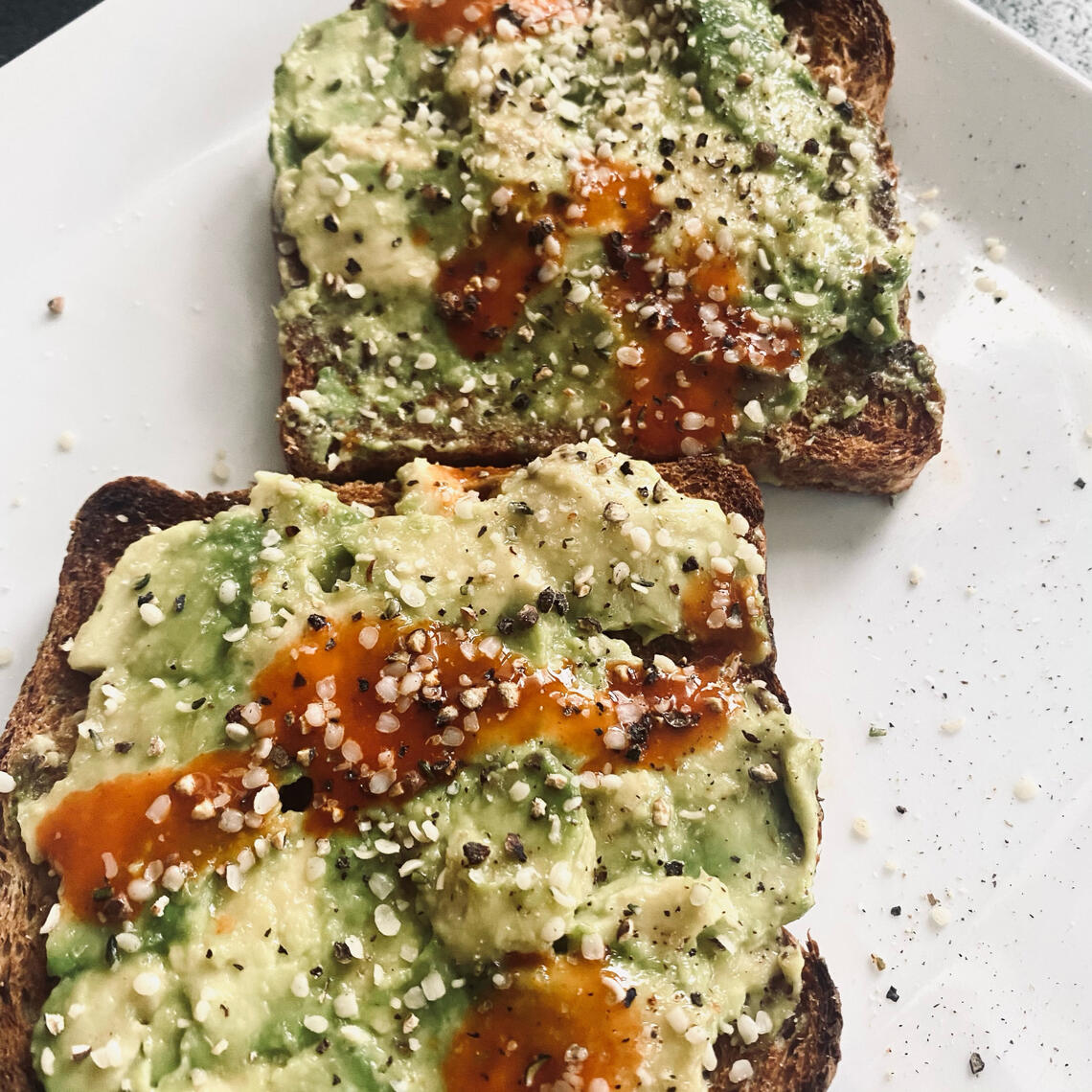 Low Effort Avocado Toast
Toasted whole grain bread with smashed avocado, hemp seeds, salt, pepper, Cholula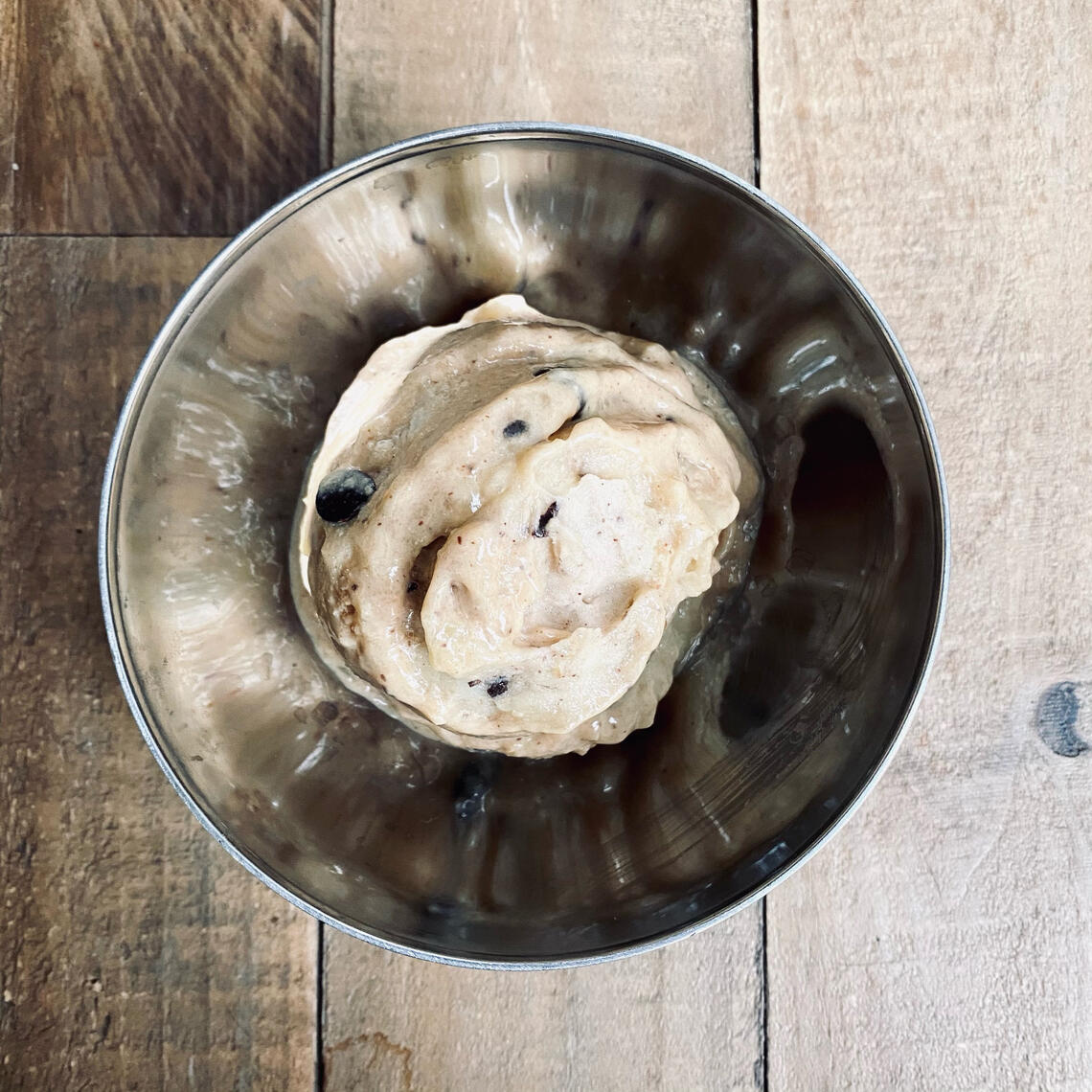 Banana Cookie Dough Ice Cream
Ingredients:
1⁄2 cup cashew butter (or 5 tbsp PB2, 5 tbsp almond butter powder and around 5 tbsp of water)
1⁄4 cup agave nectar (or 1 Splenda packet)
Small splash of vanilla extract5 tbsp blanched almond flour
1⁄2 cup mini chocolate chips
A few pinches of sea salt
4 frozen bananas

Directions:
1. Combine the cashew butter, agave nectar, and vanilla in a food processor (or mix in a small bowl) and mix until creamy
2. Add in the almond flour, mini chocolate chips, sea salt, and mix until combined
3. Blend 4 frozen bananas in a blender until creamy without chunks
4. Fold in the cookie dough to the bananas and enjoy!

Tip: Store covered with plastic wrap in freezer (will harden after an hour or so)
---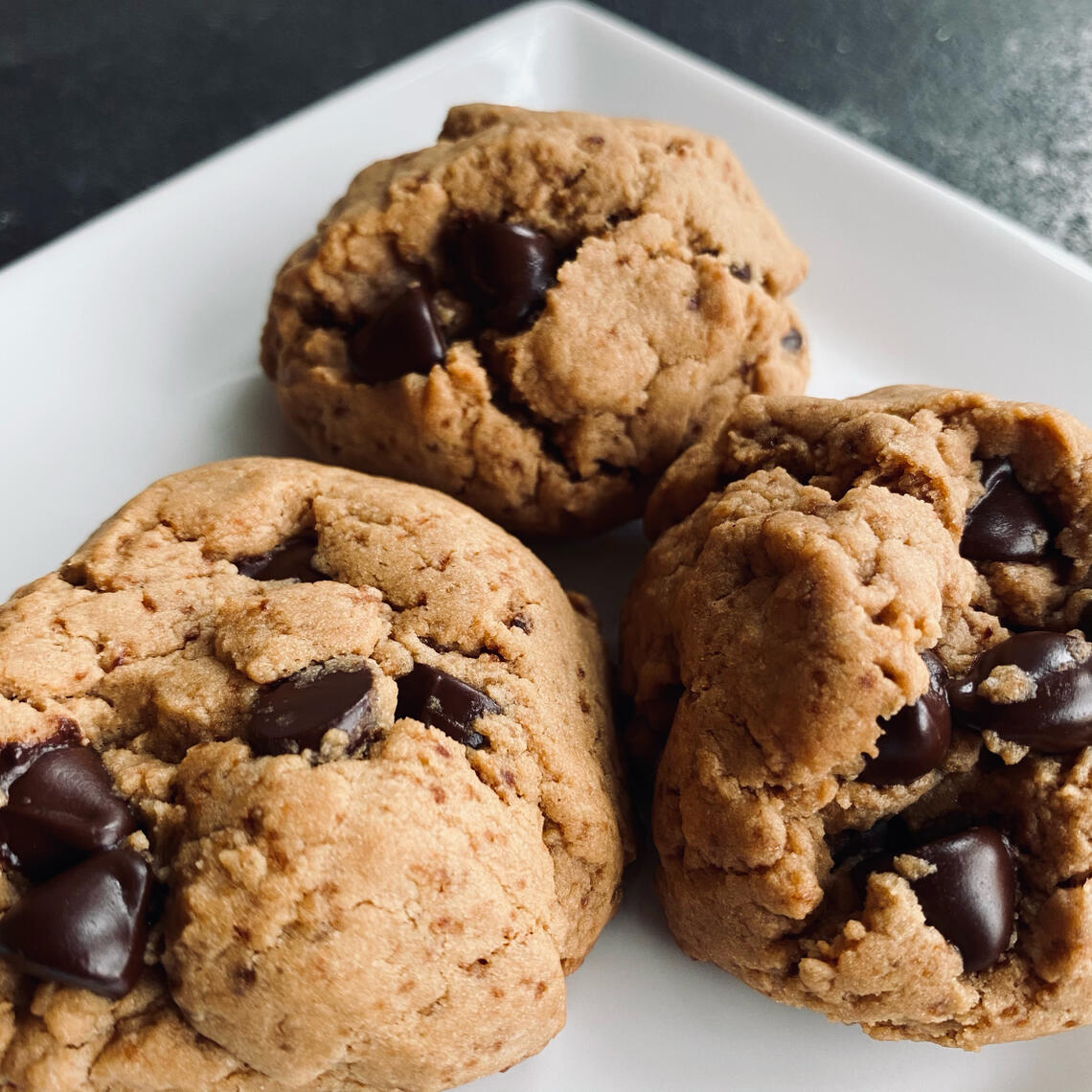 Tahini Chocolate Chip Cookies
Ingredients:
1 cup all-purpose flour
3/4 tsp baking powder
1/4 tsp baking soda
1/2 tsp salt
1/4 cups melted coconut oil
3 tbsp well-stirred tahini
3 tbsp water
1 tsp vanilla extract
5/8 cup tightly packed dark brown sugar
5 oz vegan chocolate chips

Directions:
1. Preheat the oven to 350F.
2. In a medium bowl, whisk flour, baking powder, baking soda, and salt.
3. In another bowl, mix the coconut oil, tahini, water, and vanilla extract. Add sugar and continue mixing until combined.
4. Gradually stir in dry ingredients to wet ingredients.
5. Add chocolate and mix until evenly distributed.
6. Portion cookie dough into ~3 tbsp balls. Place balls at least 3 inches apart on lined baking tray. Refrigerate for 10 minutes if dough is too soft to scoop.
7. Bake for 12 minutes. Cookies will look puffed when you remove from oven (set edges, gooey center), but will fall as they cool.
8. Cool 15-20 minutes before serving
9. Store in airtight container for up to 3 days.
---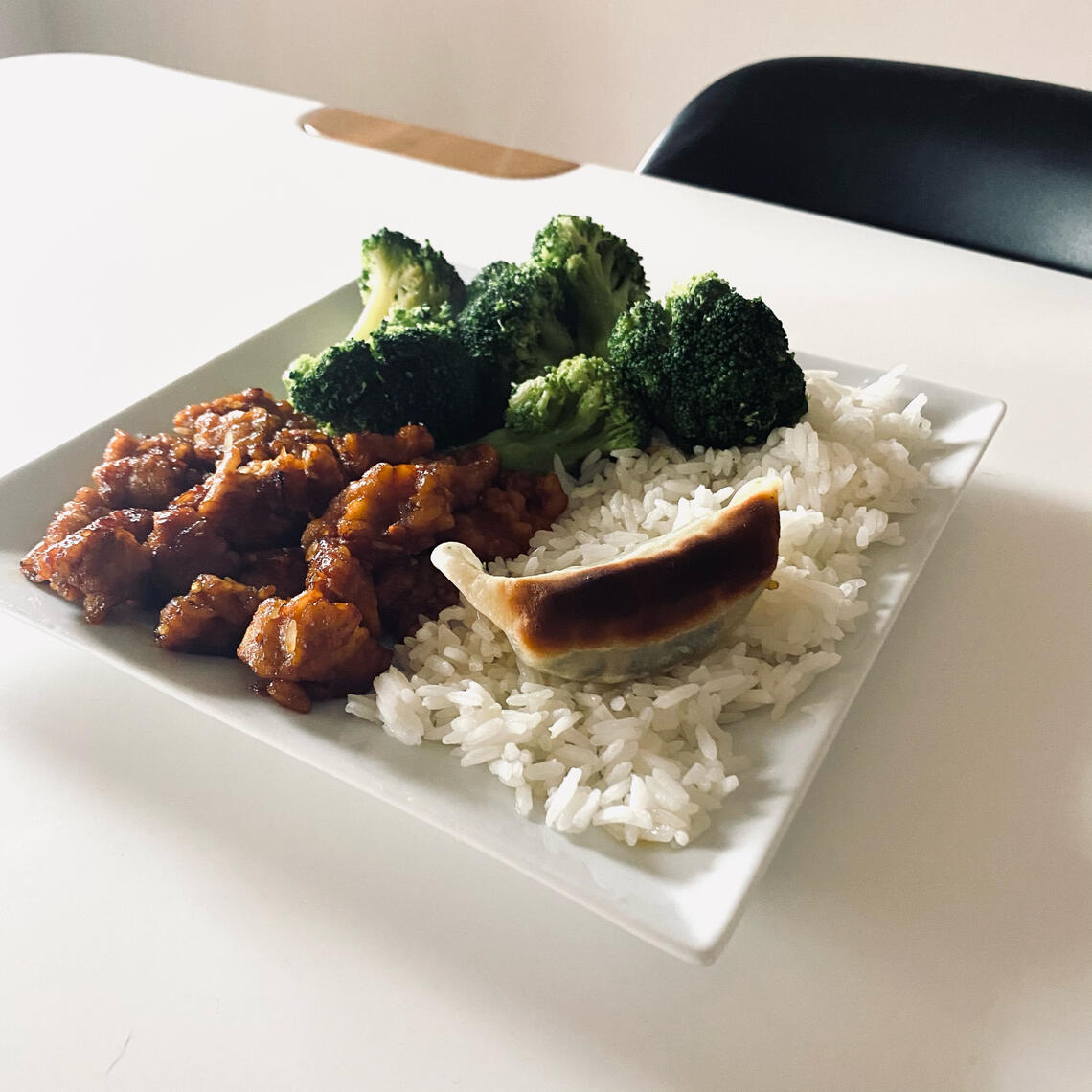 Spicy Tempeh
Ingredients:

Sauce:
3 tbsp soy sauce
1-1.5 tbsp Sriracha
1 tbsp maple syrup
1 tbsp rice vinegar
Tempeh:
1 block crumbled tempeh
1 tbsp sesame oil

Directions:
1. Heat sesame oil in a pan over medium heat
2. Crumble the tempeh in a bowl, add crumbled tempeh to the heated pan
3. In a small bowl, mix all four sauce ingredients
4. Once tempeh starts to brown and the oil starts to disappear from the pan, add sauce and cook for 4-5 minutes
5. Serve over white rice and steamed (lightly salted) broccoli

Tip: Add a pot sticker (or two) for an extra crunch (we love Trader Joe's Thai Vegetable Gyoza)
---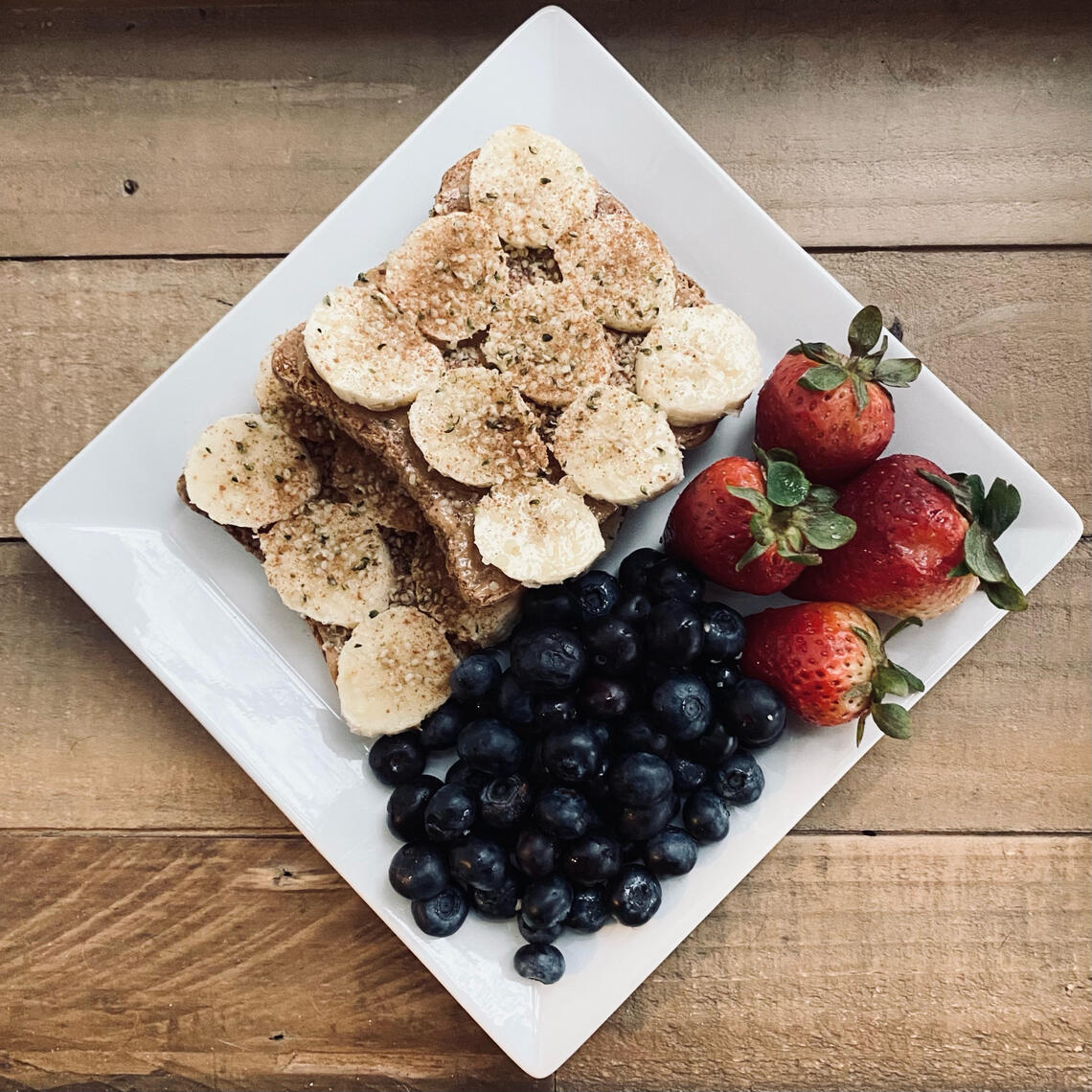 Breakfast Toast
Description:
Whole grain toast loaded with nut butter spread. Top with sliced banana, salt, cinnamon, and about 1 tbsp of hemp seeds. Serve with fresh fruit.

Tip: Consume immediately following exercise to maintain elevated energy levels.
---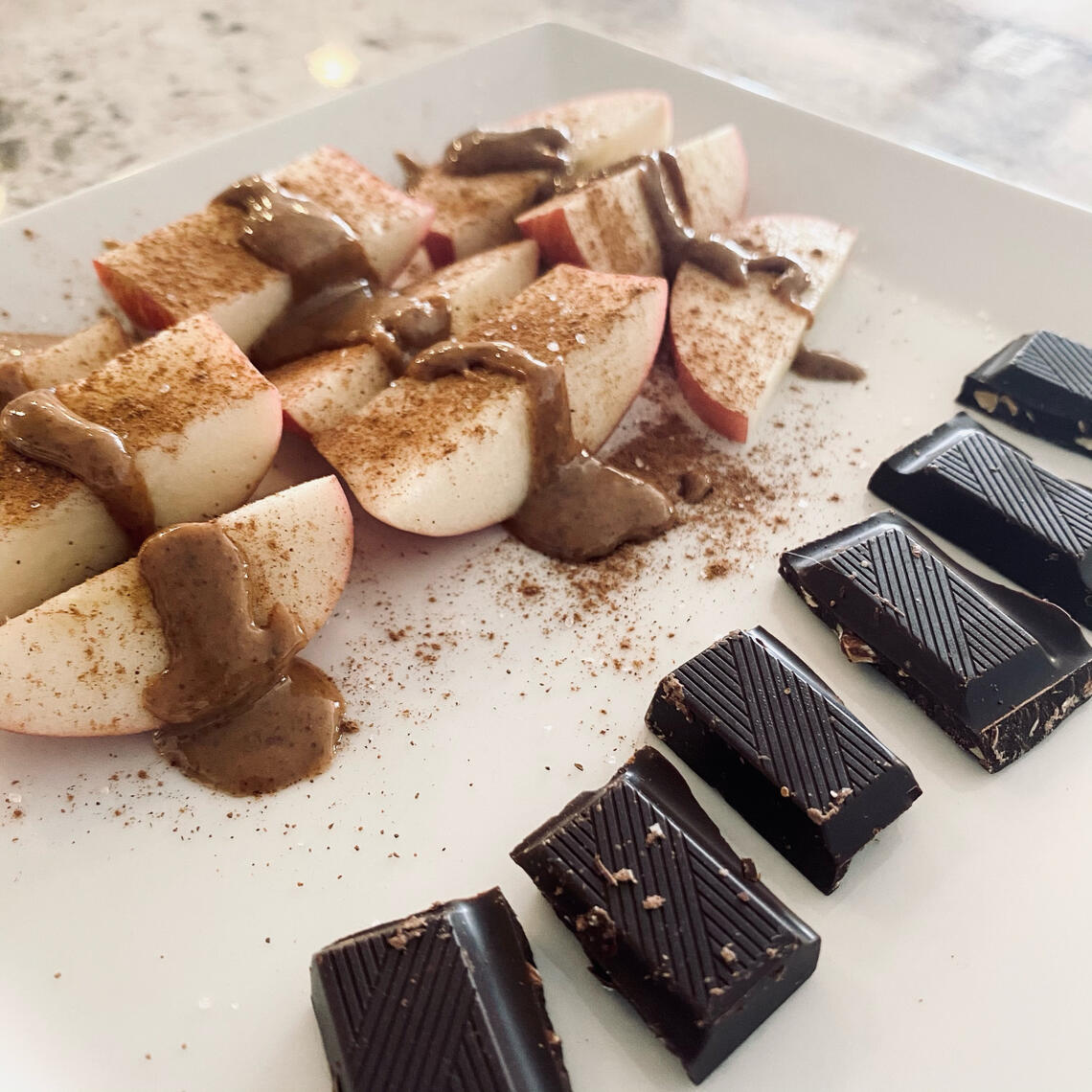 Salty and Sweet Snack
Description:
Sliced apple drizzled with nut butter sprinkled with cinnamon and sea salt. Serve with dark chocolate (we love Trader Joe's Belgian Dark Chocolate Bar with Almonds)

Tip: Our preferred apples include Gala, Granny Smith, and Honeycrisp.
---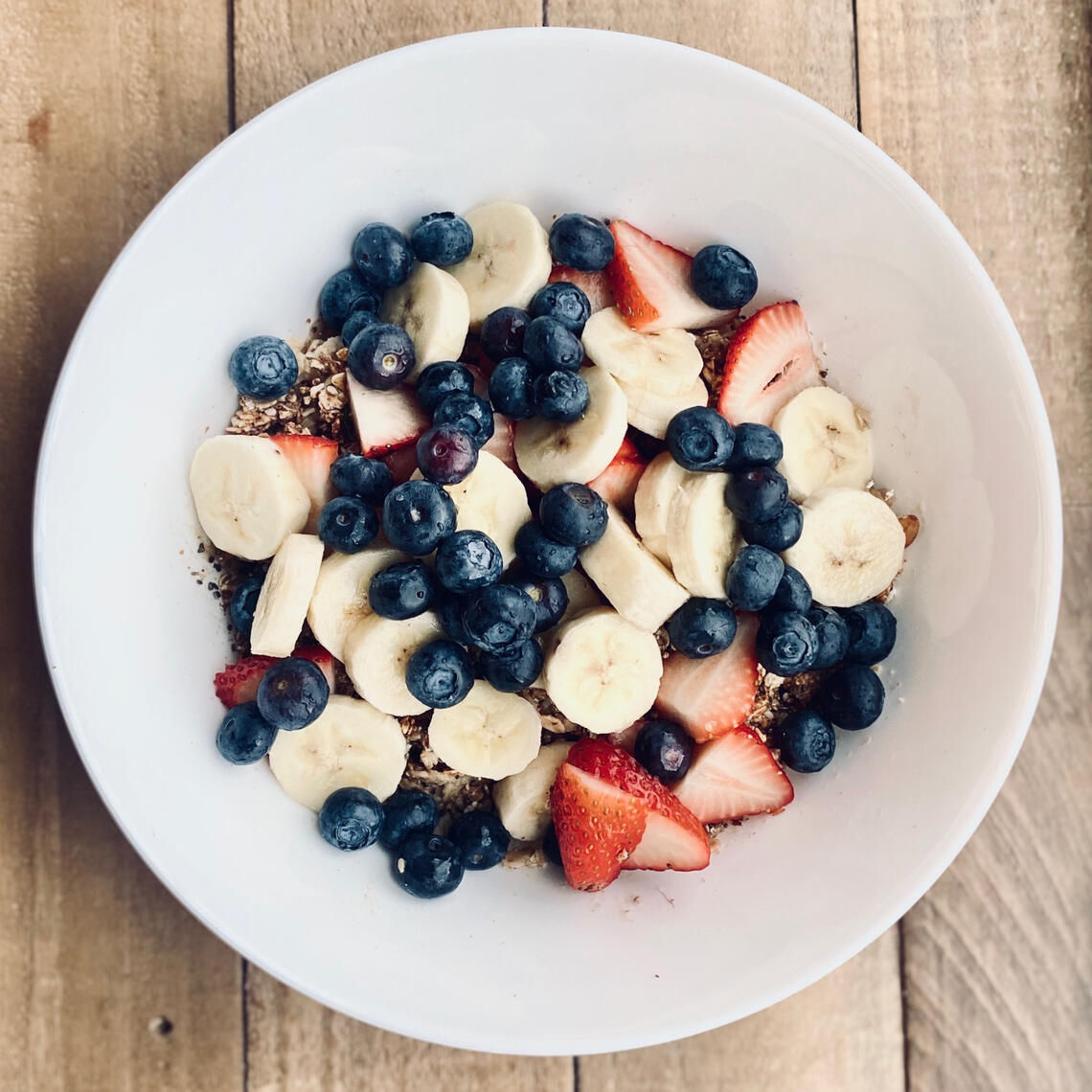 Oatmeal with Homemade Granola and Fresh Fruit
Rolled oats topped with sliced banana, strawberries, blueberries, and homemade granola.

Homemade Granola:

Ingredients:
1/3 cup nut butter
1/3 cup maple syrup
1 tsp vanilla extract
1 tbsp cinnamon
1/2 tsp salt

2 cups rolled oats
1/2 cup slivered almonds
1/2 cup walnuts
1/2 cup pumpkin seeds
1/3 cup dark chocolate chips

Directions:
1. Preheat the oven to 325F.
2. Mix maple syrup, nut butter, vanilla extract, cinnamon, and salt in a large bowl.
3. Add oats, seeds, and nuts into the bowl and stir until all ingredients are coated.
4. Press contents of the bowl to a greased or lined baking tray. Press tightly into a thin layer.
5. Bake for 20 minutes on the bottom rack of the oven.
6. Remove from oven and flip the granola using a spatula.
7. Bake for an additional 6-7 minutes.
8. Remove from oven. Immediately toss dark chocolate chips over the Granola until they melt.
9. Let granola cool before serving.
10. Store in fridge.
---
"Can't say enough good things about working with Billy!

I first started partnering with Billy about two years ago as I was looking to transition from primarily endurance running to building strength & calisthenics. Prior, I tried to follow plenty of generic strength programs, however I would never be able to progress much farther than a specific point and could not determine why.

After an initial consultation, Billy was able to determine the weak points hindering my progress and then developed a custom training program specific to my goals and weaknesses. As I progressed through the training sessions and custom plan Billy had developed, I went from barely being able to complete one assisted pull-up to completing consecutive non-assisted pull-ups and dips - not something I thought I would ever be able to do! Additionally, Billy was also able to integrate cardio that motivates me while ensuring I'm efficient with building strength in the gym.

As I conquer each fitness goal and continue towards the next, I will continue to partner with Billy because of his professionalism and strong knowledge of the type of training that leads to positive fitness development."

-Teri D.

"I've been working with Billy going on three years now and have nothing but positive things to say throughout my time training with him. Billy did a fantastic job of taking the time to get to know what my goals were in my fitness journey. I was really looking to make my overall heath a top priority of mine - working fitness into my weekly routine, learning more about lifting, having that accountability and gaining a better outlook towards food - Billy helped me achieve those goals. He continues to push me and is just so knowledgeable. Such an awesome trainer and individual!"

-Theresa V.

"Billy is the first personal trainer I've ever had, and I can't say enough good things about the experience. At 34 I had a background of being an endurance athlete (marathons, cycling events, and a yogi), but wanted to gain more strength. Having never stepping into a gym before, I connected with Billy to learn the essential basics of the gym, a routine, muscle isolation, and nutrition. Over the past 5 months I've seen real change and real results and Billy has been there the entire way for all of my questions, comments, and concerns. I honestly can't recommend him enough."

-Anthony G.

"As a road-warrior who typically only has access to my house, a hotel room, or an inconsistent hotel gym, remote training was my best and most consistent option. My goals were to build up strength, with minimal bulk. Billy has been training me remotely for the past 8 months and in that time has helped me to reach and exceed those goals, all from my house or a hotel gym with minimal equipment. Billy assessed how I moved and built muscle over the course of our sessions and continues to create custom-tailored workouts that will work in my variable locations. He also provided me with dietary guidelines to follow, to further help me achieve my goals. Billy is pragmatic and mindful of how he approaches wellness and fitness for his clients. Once you start working with him, you won't want to go back."

-Michele R.

"I've been working with Billy for over a year. From the beginning, he built workouts for me personally! I'm injury-prone and the amount of adjustments we continue to make are significant. I never knew this was possible! Billy cares about his clients and motivates us in so many ways. His daily workouts are customized to my goals and how trouble spots may be feeling. I couldn't be happier to be working with Billy. I'm doing things now I ever thought I could!"

-Katie W.

"I've really enjoyed my experience with Billy as personal trainer. He brings great knowledge and enthusiasm to his work. Billy has a clear vision for each workout and is easily able to explain the nuances and muscle groups incorporated into each exercise. There's also great variety in the process. He makes the "extra effort" to ensure that clients feel comfortable with their workout plan. Most importantly, you will be able to see improved results across the board!"

-Nick M.

"Billy is a fantastic trainer, as well as fitness mentor and friend. As a physician I have a stressful lifestyle with variable and unreliable hours; from the beginning of our working together Billy has always been flexible to meet my needs, and make sure that I am still focusing on whole body wellness. He offers tailored work out plans, as well as advice on diet, nutrition, and even stretching. He is also relatable and very responsive. I have already referred him to my sister and some other friends who are also in the medical field. Great trainer!"

-Natalie R.

"Billy is an amazing trainer! I used to spend twice as much time working out as I do now and have never felt better. Every workout is planned completely and intentional which I love. I've had trainers before and Billy is definitely the best!!!"

-Angela N.